Welcome to my tribute to 70's band - MUD
Between January 1974 and June 1975, Les Gray, Ray Stiles, Dave Mount and Rob Davis notched up 3 number one singles in the UK alone. But to many, their most endearing quality, for which they will best be best remembered, was their incomparable sense of fun.
These pages are my tribute to one of my favourite and, in my opinion, one of the most underrated of the 'Glam' bands: MUD.
Latest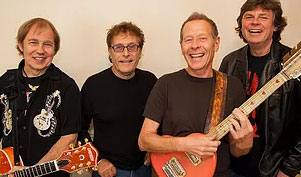 MUD live at the Grand in Clitheroe on Saturday 16th December 2023.
Click hereb> for more information and tickets.