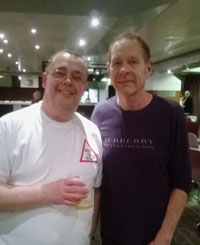 At the end of 2015 Ray Stiles and Rob Davis reunited to play three shows as Mud.
I, along with many other fans, was delighted to have the opportunity to see MUD's two surviving members take to the road after such a long time to play all the hits once again. And we weren't disappointed.
A friend and I went to the Preston gig where they supported Slade. Despite the limited rehearsal and lack of any kind of staging, Rob and Ray gave us a slick and memorable performance. They haven't lost their touch and I for one was left feeling more than a little nostalgic.
But it didn't end there! During the interval, as we shared a drink and reminiscences with other fans, who should walk through the bar but Rob Davis. I only met him very briefly, but to get the opportunity to talk to someone who was one of my earliest music influences was truly magical. It is a moment I will always remember. I only wish I could have spent some time with the guys to fill in some of the huge gaps in their story.
Maybe next time.
In the meantime, below are my pictures from that memorable night.